Featured Item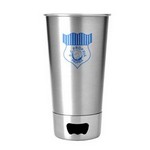 Brew Cup Opener
Stainless steel beer cup w/ domestic & imported beer openers. Serve up a classy beer in a stainless steel cup. Safe and unbreakable. Ideal for tailgate parties, camping, barbecues, poolside, beach, ou...
$10.48 - $12.58
A&A Specialty Says Welcome!
Looking for promotional products? Looking for wearing apparel, screen printed or embroidered?
YOU'VE COME TO THE RIGHT SITE. THE STAFF AT A&A SPECIALTY ADVERTISING ARE PROMOTIONAL PRODUCTS EXPERTS WHO ARE COMMITTED TO YOUR SUCCESS.
Quickly and easily search our vast database of products for items to:
Improve traffic at trade shows
Motivate staff
Thank a customer
Increase safety awareness
Click on the 'Search' button and see how easy it is to find that perfect promotional product for any occasion.
Click on 'Links' for our full line catalog of WEARING APPAREL